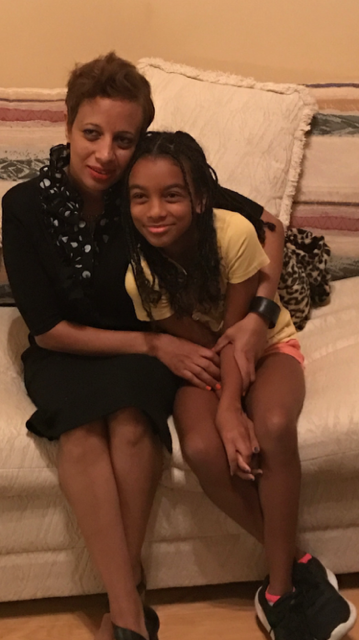 March 2017 Alumni Spotlight
Ms. Aida Beshah is a self-taught award winning artist who resides in Atlanta, GA. Ms. Beshah left Ethiopia in 1986 and lived in Niamey, Niger (West Africa) for 6 months prior to moving to the United States in 1987. Ms. Beshah completed her secondary education at North Fulton High School and graduated in 1991. Ms. Beshah developed her interest in art at a young age, growing up in Addis Ababa, Ethiopia. She recalls art being one of her favorite subjects while attending Nazareth School and has fond memories of Ms. Mary, her grade school art teacher. Ms. Beshah often found herself sketching a painting simply for personal satisfaction and continued to develop and broaden her artistic skills throughout the years. Ms. Beshah's artwork is very diverse in method as well as style. Although most of her work (90%) is acrylic on canvas, she also uses other mediums such as pencil and charcoal. Her style of art varies from Lalibela Coptic Ethiopian crosses to various abstract paintings. The central theme of Ms. Beshah's paintings are women and their internal feelings. She finds her paintings to be a reflection of herself as well as other women with whom she shares her daily joys and pains of life. Ms. Beshah uses vibrant colors to symbolize her own inner happiness and personality. Ms. Beshah shared, "All the vibrant colors I use relate to some sort of moment in my life….I'm not saying l'm happy all the time but I paint my happy moments rather than my sad ones, I prefer not to portray my dark moments on a canvas. There are three paintings that I created when my mother passed away, but those paintings are not my dark moments, they are an expression of how I felt when I lost my mom and through those paintings I get the satisfaction of everlasting love."
The personal nature of Ms. Beshah's paintings makes it difficult for her to part with them. Her paintings have sold and found homes locally and throughout the states. Ms. Beshah's childhood best friends Ms. Selam Yohannes and Ms. Helina Teshome are the owners of two of her acrylic on canvas paintings. Ms. Beshah has exhibited her work in many solo and group shows across the U.S. (see listing below). Ms. Beshah's paintings has brought her recognition in the art community and she is a successful artist who continues to share her reflections through her canvas with the world.
For more information please visit Ms. Aida Beshah's Facebook page: https://www.facebook.com/Aidabeshahs-art-384297366412/
Achievements: 
Painting won 3rd place in 2008 at The National Arts Program. 
Painting nominated as Honorable mention in 2005 at The National Arts Program.
Painting nominated as Honorable Mention in 2003 at The National Arts Program. 
Review written by Yarada Lig magazine in Atlanta, GA November 2003.
Review written by Mieraf in Winnipeg, MB September 2003. 
Review written by Ethiopian community center in Atlanta, GA July 2001.
Ms. Aida Beshah's Art has been displayed in many art shows exhibits listed below
RLIFE event: Participated in a live painting session for the Children's Miracle Network, November 3 ,2013.
Solo Exhibition, Club 1027: Independent show sponsored by Remy Martin, September 9,2011 Atlanta, GA.
Art of Touch: participated in an ongoing annual show for 3 years starting December 2010-2013. 2007.
The National Arts Program: Participated as an exhibiting artist hosted by Atlanta Cultural Affairs, December 6,2002 ongoing annual event until 2007, Atlanta, GA. 2005. Group Exhibition, MOYA: April 30, 2005 Atlanta, GA.
Group Exhibition, Blen Graphix: 2003, Washington, DC. 2003.
Solo Exhibition, Yichalal Entertainment: At The Ethiopian Film Fest, May 24, 2003, Atlanta, GA. 2002.
Solo Exhibition, Cafe Bunamore: July 20-21 2002, Atlanta, GA.
Acrylic on canvas and mixed medium
"I paint my happy moments rather than my sad ones"